On the 23rd March 2020 the UK went into lockdown to attempt to slow the spread of Covid-19. That same day LLT went LIVE with Make Movement your Mission.
Our Mission? to provide opportunities for our teachers and instructors to help their class and group members remain active throughout Covid 19. In particular, to reach those people isolated and shielded as not able to get outdoors, and those not able to join/keep up safely with the online 'copy me' exercise videos available.
Why Movement? Movement is an inclusive term, a message to build in movement, reduce sitting time and do more everyday and we specifically did not want it to be another exercise video. It is all about adding extra movement minutes to your day on top of other activities you may be doing.
Based on? We based Make Movement your Mission on a wide range of research (see later section) showing that light activity is important for maintenance of function in older people, sitting less (and moving more) will help maintain function, and the fact that we would not 'know' the participants, so doing highly challenging balance or progressive resistance strength work would not be appropriate. We assumed there would be a range of abilities so every movement provides a seated and supported standing option and we specifically concentrate on eduction of how the body moves and why each movement will help with a range of everyday activities.
Where can you find Make Movement your Mission? You can find us on Facebook, where for the last 10 weeks we have delivered 3 daily movement 'snacks' lasting 10-15 minutes. You can also find us on You Tube where we record the live movement snacks and post them on You Tube.
What do people think of Make Movement your Mission? So over the 10 weeks we have run MMyM so far, what have we seen or learned? We have looked at peoples comments on the live Facebook videos (and catch ups later) and the You Tube videos. We have also done a couple of Facebook polls to see what people think of being involved. You can download the full report we have created (27 May 2020) here.
Views, Members and Minutes! As of 1st June (end of 10 weeks into the Mission) we have 2,841 members worldwide on the Facebook page. Each live snack has between 40-60 people watching and this rises to 150-200 views in the hours and days following as people don't always make it to the 'LIVE' Movement snack. They often tell us when they have 'caught up' on the snack and we appreciate that life has many priorities and are just pleased they let us know. We have now delivered over 190 movement snacks and an additional >40 hours of additional movement minutes to our audience. 86% are women.
The You Tube Make Movement your Mission Playlist has 261 subscribers but many people just view rather than subscribe, as we have 5,900 unique viewers. We have had 18,427 views of the videos. 76% of the viewers are over the age of 65 (meaning 24% are under!) and 82% are women. Where are all the men? Look out for a Blog by Bob Laventure on this exact issue shortly!.
And its not all about people in the UK either, so far we have attracted viewers from 22 different countries.
But far more importantly, the comments we have received have just cheered our spirits. We might expect, if people engage, some changes to function because of the additional movement minutes and the evidence base behind sitting less and moving more, but we have been inundated with comments ranging from physical, social, mental health benefits, to habit forming and behaviour changing routines.
The Physical and Functional Health improvements from people taking part have, in some, been very fast and range from less pain, more stability, better flexibility, less stiffness and feeling stronger – all instigated by our focus on being more mindful about how you do different movements and our ethos of 'crowbarring' in some of the movements in everyday tasks between movement snacks. The evidence for regular light activity to health is growing and this just shows that the emerging evidence is correct!
There have also been many comments about feeling connected and well – being part of a community that, although not meeting in person, thinks about each other, is interested and welcoming and motivating.
But our interest was always to change habits and see a step change in behaviour – sitting less and moving more. Thinking about how we move and preparing to move with good posture, regularity of mobilising movements to help reduce stiffness and maintain range of movement, doing a back extension after you have done any bending or lifting, constantly being aware of having the best posture where the head sits over the spine to help avoid stooping, doing a nice long stretch of the hamstrings and calf muscles at the end of a day outside gardening, etc etc.
We also set out to improve physical literacy and educate people about movement and have had some great feedback on this as well.
A fair proportion of people who join MMYM are not people who are shielding, they are the instructors that are supporting their participants that can no longer get to their classes and others who are just joining for some CPD.
But we have also learned a huge amount from this Mission. We have been reminded that group cohesion is vital for adherence over time, that we still need to provide some IT support for newcomers to Facebook and YouTube, and have had to brush up on our own IT skills at times! We also have learned that its hard to engage men in this Mission (as it is for exercise groups). We were very specific in this Mission, it is NOT AN EXERCISE PROGRAMME – so once we had worn out Bex (after 8 weeks of doing all the live movements snacks!) we had to ensure a consistency of message when we involved other LLT tutors in the Mission.
The good news is that we have enjoyed this Mission and our learning so much that we felt it was vital to continue. So until shielding (in the whole of the UK) stops we will continue delivering 3 LIVE Movement Snacks a day. We will eventually move to a slightly more sustainable model (as our tutors will eventually start delivering training to instructors again!) and have a few live snacks each week, tasks to crowbar in between, videos of previous snacks for people to set their alarms to and have a go at – and of course, maintain this thriving Movement Community. We have been approached during MMyM by the Stroke Association and have produced three Movement Snack videos specific for people who have had a Stroke (Active sitting and boosting your circulation; Get moving while seated; Get moving while standing up) and you can view these movement snacks here. We are also working to produce some Movement Snacks for those residing in care settings, on top of the seated ones we have produced during the MMyM. We have also added videos on continence and pelvic floor (see the MMyM playlist) in the same ethos of thinking about (and doing!) these movements throughout the day to help improve continence. We will look to widen Physical Movement Literacy as MMyM continues.
Evidence behind MMyM:
Make Movement your Mission is based on the important facts that:
Sitting less and Moving more is good for health (CMO Physical Activity Guidelines, 2019; Copeland et al. 2017)
Light regular activity is good for physical function and there is evidence it also improves health in older people (CMO Physical Activity Guidelines, 2019)
Regular Sit to Stands throughout the day in those transitioning to frailty can improve function and stability (Harvey et al. 2018)
People are more likely to change activity behaviour if their physical activity literacy is improved and they understand WHY they should move more and HOW best to do that safely and with guided support (Leask et al. 2016, 2017)
Sit less Move More is our Mantra. We will keep you updated as time goes by…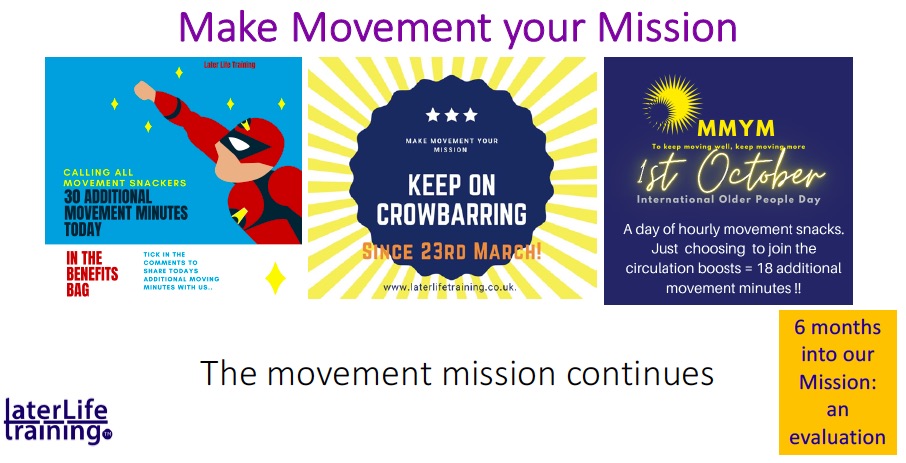 On the 1st October 2020, to celebrate International Day of the Older Person, we undertook a 'marathon' movement snack day! On the hour every hour from 8am to 4pm. The celebration engaged many new people throughout the day as well as our now 'regulars'. You can read a brief evaluation of the day here.